This is an accompanying guide that stems from my original piece Reflection on Colombia.
Colombia is a beautiful country with rich culture and welcoming citizens, in addition to a controversial history that still carries weight today. A trip there will show travelers how passion and optimism can lead to immense change, as Colombia has progressed tremendously since the days where local narcos filled the streets with fear and chaos. On my trip, I visited the country's three main cities: Bogota (3 days), Medellin (4 days), and Cartagena (4 days). Each offered a different personality, perspective, and experience. Here are some personal tips:
Bogota
Bogota is the third biggest city in South America. The capital city is a busy metropolis that blends the old and modern worlds. Street art covers the walls and paints the narratives of political and social issues.
Where We Stayed
Chapinero
It's a nice, on the verge bougie, neighborhood in Northeastern Bogota. Chapinero is a busy commercial area with corporate offices, restaurants, bars, and massive shopping malls. It's trendy, clean, and safe, probably the three most important elements I look for when determining areas to stay. The area is also very walkable, with most amenities concentrated in a relatively short radius.
What We Saw
Monserrate
With a lookout point 10,314 feet above sea level, Monserrate will provide you with great views of Bogota. Back in the day, the mountain served as a religious and sacred place where pilgrims climbed to pray and make sacrifices. Now, visitors can take a quick cable car ride to the top.
Paloquemao Market
It's a sensory overload at Paloquemao Market with an abundance of fruit, vegetables, meat and other foods (especially avocados). You can easily get lost in the mazelike marketplace, but at least you won't starve.
La Candelaria
An eye-opening neighborhood in Bogota that blends the city's past with the present. In one part, you'll stroll through Bogota's busy municipal center with a number of museums, federal buildings, and gothic churches. In another, you'll be transported back in time to the colonial days with brightly painted homes and cobblestone streets.
Plaza Bolívar
Sitting in the center of La Candelaria, Plaza Bolívar is a huge public square with a platoon of pigeons. If you feel like getting ambushed by birds, buy some seeds from local vendors and feed away. Bordering Plaza Bolívar is Primatial Cathedral of Bogotá, a beautiful and opulent church worth checking out.
I highly recommend taking this walking tour. Not only does it guide you to some of the most notable street art in the city, but it also gives you a great history lesson on the evolution of Bogota and Colombia. Even better, it's free.
What We Ate
A trendy and hip restaurant with an interesting theme: deers and bears. You'll enjoy modern and super tasty fusion Colombian food, plus great cocktails.
A super popular spot that both locals and tourist frequent. The OG location is somewhere outside Bogota, but if you're not in the mood to travel that far, go to the one right in the city. The restaurant is massive, loud and boisterous, which makes for a fun night out. You can even get serenaded by a band if you're targeted as a tourist.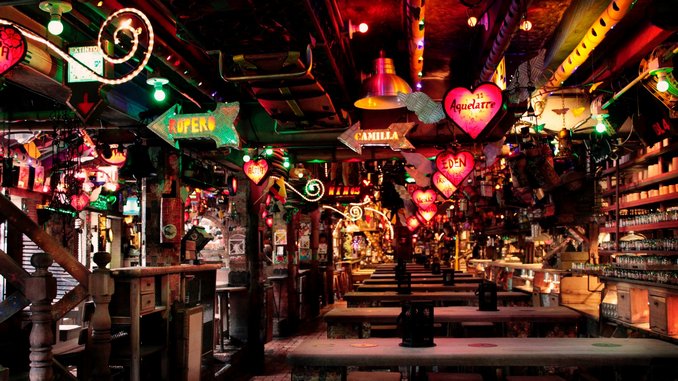 Capital Cocina y Café
A little restaurant in La Candelaria's colonial area that's a great pit stop for lunch while exploring the neighborhood. There are only 5 tables in the entire thing, so be prepared to wait during busy times.
Colombian's don't mess around when it comes to coffee, as they treat it as an art form. Azahar Coffe is a chill coffee shop that's mainly outdoors and will provide a good kick start to the day….or even throughout the day.
Where We Drank
Electronic club on the top of a building with an open roof. Plays a variety of non-mainstream music and is a fun option for a late night out.
A great cocktail bar decked out in wood in the Chapinero area. Once you enter, you're greeted with a neon saying that says "Change the world, one cocktail at a time". Drinks are tasty and they had a DJ spinning dance tunes.
Medellin
Medellin was my favorite city because it provided the Colombian experience I was seeking. Being that it served as the hub of the drug trade years ago, there's a lot of history to be learned and witness first hand. Most impressively though, is how Medellin has advanced beyond that dark era to become one fo the most innovative cities in the world.
Where We Stayed
El Poblado
A very energetic area with tons of restaurants and bars within walking distance, making it the most convenient area to stay in. Weekends are popping as locals and tourists converge around the nightlife around Parque Lleras. It may not be very "traditional", but do yourself a favor and book an Air BnB here.
What We Saw
Probably the best walking tour I took in Colombia. With Medellin's notorious history of violence, drugs, and corruption, the tour goes over the dark history, as well as how the city rose from the ashes. You'll also get to see the hectic central business areas, Bortero's famous sculptures, and overall, how Medellin citizens enjoy their free time.
Guatapé
If you have a free afternoon, take a bus out to Guatapé. First, hike up 700 steps to the top of La Piedra and get jaw-dropping views of the surrounding area. It seriously looks like a watercolor painting with the different islands. The climb isn't that hard, but make sure to bring some water. Afterwards, take a rickshaw to the nearby town and walk around the colorful homes that line a waterfront.
Communa 13 used to be one of the most dangerous neighborhoods in what used to be the most dangerous cities in the world. The recommended walking tour takes you through the area to observe the impressive street art while learning about Communa 13's urban revitalization. The cool part was being able to hear and engage with locals who are extremely welcoming.
What We Ate
Regarded as one of the top restaurants in Medellin, Carmen serves up fine culinary fare. Everything we ate was delicious, so the menu is a can't miss. The cocktails were also finely crafted. Be sure to make reservations or go on an off night, as it'll be impossible to walk in on a weekend. Side note: I'm grateful for the strong exchange rates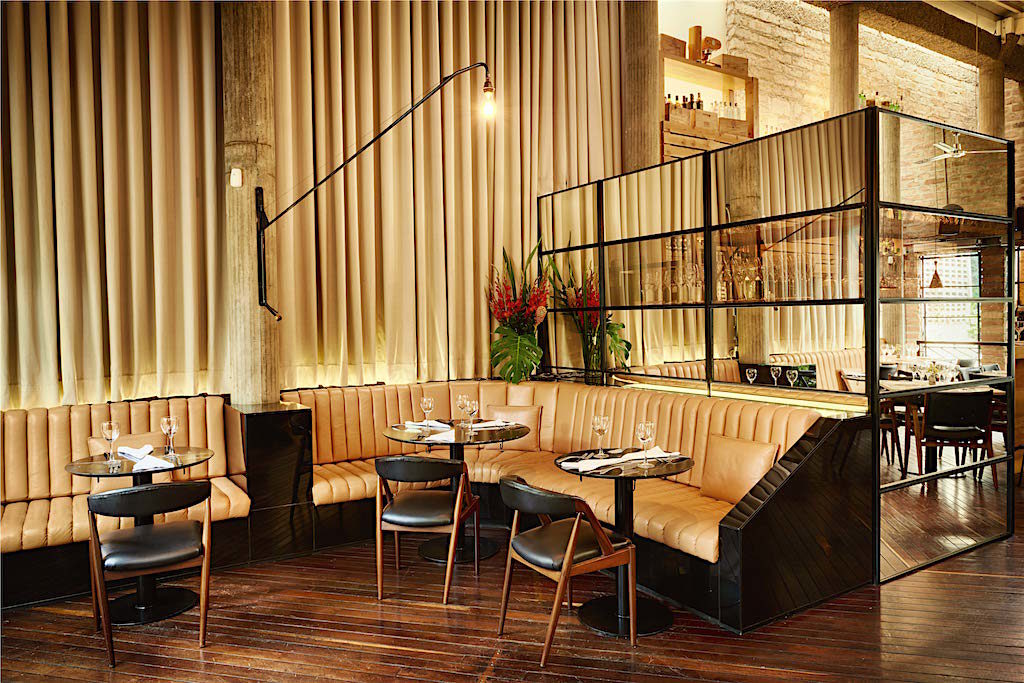 Located in the outer edge of El Poblado, El Herbario is a big restaurant in a former warehouse serving plates made with fresh ingredients. With all the meat you consume on your vacation, you're going to need some greens and this restaurant boasts a menu with a number of vegetable-based dishes.
We practically went here every day for breakfast or during the afternoon for a snack. A hip coffee shop that looked like it would fit in well in Brooklyn with a nice patio where you can chow down on tasty empanadas. If you need to get some work done, a lot of laptop warriors post up here during the day.
Very popular institution in Medellin, serving up traditional authentic Colombian cuisine. Come starving and with elastic waistband pants because the portions are huge.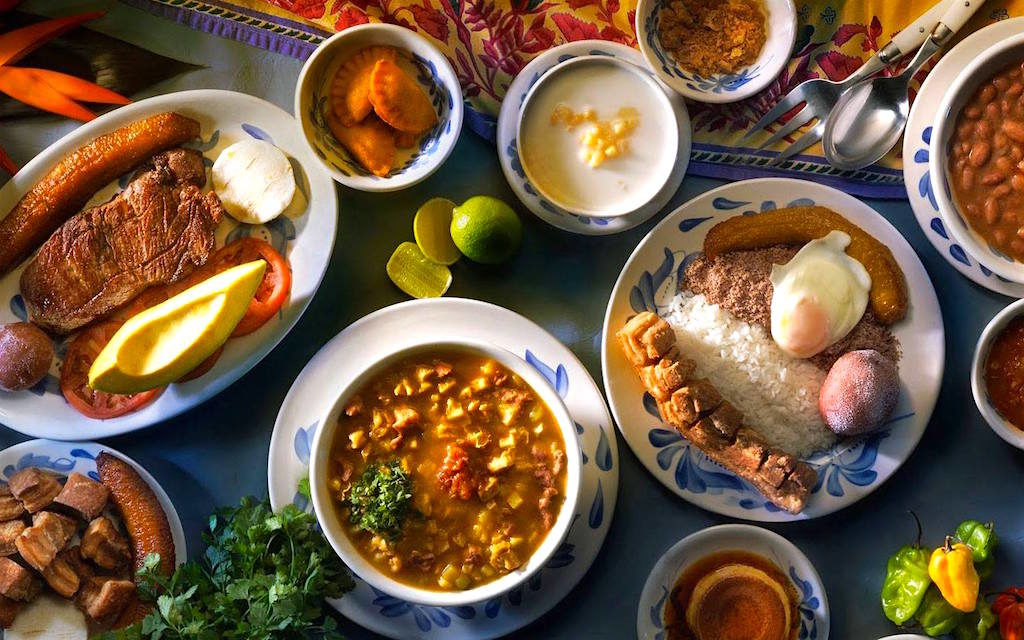 What We Drank
El Poblado
Bar hop around El Poblado. There are countless bars in proximity, making bouncing around really easy. For some reason, alcohol is pretty weak in Colombia (I think that bars water down their booze). We went to this nightclub and ordered $3 Grey Goose shots, but once we took them, we knew why it was only $3 because it was definitely not Grey Goose. However, be sure to try the national liquor, Aguardient, which tastes like black licorice.
Cartagena
Cartagena is bordered by the Caribbean Sea and was the first Spanish colony on the American continent and one of the first sanctuaries of freed African slaves in the Americas. Since its right on the water, its a very popular tourist destination, which takes a lot away from the city's charm.
Where We Stayed
El Centro
This is where Cartagena originated. The old city behind the fortress has a ton of charm with its cobblestone streets and brightly colored buildings that seem untouched since the colonial days. Most of Cartagena's main attractions lay within El Centro, so it's more convenient to stay here. Be sure to traverse the fortress walls during the early evening and watch the sunset.
What We Saw
Castillo de San Felipe de Barajas
This castle/fortress was built in 1536 and provides good 360-degree views of Cartagena. Try lurking around in the caverns within the Castillo and don't miss taking a pic with the giant Colombia flag flying proudly at the top.
Playa Blanca
Even though Cartagena is bordered by the Carribean Sea, it's beaches aren't that nice. To find something decent, you need to take a 45-minute speedboat ride to Playa Blanca. The beach is solid, but not the most impressive. Additionally, there are a lot of vendors hawking souvenirs, which get pretty annoying when you're trying to relax. I would make a sign that says "I have no money" and put it near you for the vendors to see.
Getsemani
This could be considered the Brooklyn of Cartagena. Getsemani sits outside the walls of El Centro and used to be a really sketchy part of town. But gentrification came to the rescue and cleaned up the area, which revolves around Plaza Trinidad, where folks gather to eat, drink, listen to street musicians.
What We Ate
Super fresh ceviche and an iconic restaurant in the city. If you're near the ocean, might as well enjoy great seafood.
If you're exploring Getsemani, stop by Demente for drinks and food. Super hipster spot with actually tasty pizza.
Peruvian food in a setting made for warm Cartagena nights. Another great ceviche spot.
We had the final meal of our vacation here and it was a perfect cap to our trip. The place gets really busy because supposedly the Colombian president dines there frequently, so make reservations.
What We Drank
It looked like they converted an old mansion into a cocktail bar. Very interesting infusions of mixed drinks and they even make their own moonshine here. At night they might have DJs or a salsa band.