Austin operates on its own unique vibe. Even as Texas' capital, the city adopts a more free spirited, liberal, and eclectic personality than rest of the typically conservative state. Locals aim to "keep Austin weird", but with an influx of business and residents surging into the city, it'll surely be a challenge to maintain a balance. Even so, ATX has a lot of charm. From the quaint yet evolving East side neighborhood, to the rowdy bars on Dirty 6th, to numerous food truck enclaves, you can have a packed weekend trip with great eats and drink.
"People don't live in Austin to work, they work to live there."

Robert Rodriguez, filmmaker


Where We Stayed
East Austin
We recommend finding an Airbnb in East Austin. It's the city's most "up and coming" neighborhood which nowadays typically is associated with gentrification. Once a racially segregated area where Austin's Black and Hispanic residents lived, the East side of the city is now seeing trendy restaurants, cocktail bars, and luxury apartments moving in. Even with its shady history, it was an ideal area to stay. Our Airbnb was a few blocks from a number of popular restaurants and bars, as well as being only 10 minutes from the airport. The area is also a short ride to other attractions in the city.
Where We Ate
We were curious to see how Mexican food in Austin compared to that in LA. Even though it's the same cuisine, there's probably a regional difference in some aspects. Veracruz All Natural has 4 locations around the city, and we visited the East Austin truck. The two owners, Reyna and Maritza Vazquez, are sisters who were born and raised in Veracruz, Mexico and moved to Austin after high school. They worked tirelessly to chase their culinary dreams and their hard work eventually paid off, as Veracruz became a smash hit. People raved about the migas tacos (kinda like a breakfast taco). We ordered one of those plus a couple traditional ones with al pastor and carne one. The regulars were good, but it didn't blow our minds, and the migas was very underwhelming. LA won that match.
A very interesting fusion of Japanese izakaya and Texas roadhouse BBQ. The restaurant could easily fall victim to being a gimmick but the food is delicious. It's a unique and fun Austin dining experience worth having dinner at. Check out our review.
This spacious and minimal space resembles most trendy coffee shops, but Greater Good's beans earned its title as "Best Coffee in Texas". The shop boasts a lot of natural light, so it's a serene spot to grab a matcha and rev yourself up for the day ahead. Led by husband and wife team Trey Cobb and Khanh Trang, Greater Goods actually lives up to its name, pairing each roast with a local charity, so you're benefiting an actual greater good with each bean purchased. 
For a city with such an active nightlife, Austin doesn't offer much in terms of late night eateries. Rex even asked a bouncer at a bar for his post 2AM recommendations and was disappointed with the scarce choices. After scraping together some options, we ended up at Laz Cazuelas, a restaurant on our way back to the Airbnb which was opened 24 hours. The elderly cashier was either hard of hearing or just didn't give a damn at 3AM, but Rex had to repeat his carne asada nachos order 5 times before he punched it in (it eventually came out wrong too, tomatoes yuck). Even though there was nobody else in the restaurant, we waited 30 minutes for our food. It's not the best Mexican food, but when you're limited, it actually hit the spot. 
Skip the 5 hour wait at much hyped Franklin's and spend only 2 hours at la Barbecue. The brisket is some of the best, and in Texas, that means a lot. Check out our review.
There was a lot of hype around Suerte. The modern Mexican eatery was named one of the "Best New Restaurants in America" by Eater, so it was necessary to lock down a Saturday night dinner reservation weeks in advance. The menu focuses on Oaxacan flavors made from local Central Texas ingredients, but the restaurant's signature was its masa (corn) tortillas made in-house. Executive chef Fermín Nuñez proudly states that masa is fresh every single day, which is necessary because it's featured prominently in most dishes. Suerte is a well designed modern venue, with a ton of wood and Mexican knick knacks. We ordered the suadero tacos, quesadilla with spinach and casatica di bufala (water buffalo cheese), chorizo molotes. The food was well presented, but we honestly weren't impressed with much. The suadero tacos was one of the house specials, but it was too salty for our liking. It's funny that we weren't impressed with any of the Mexican restaurants we dined at in Austin.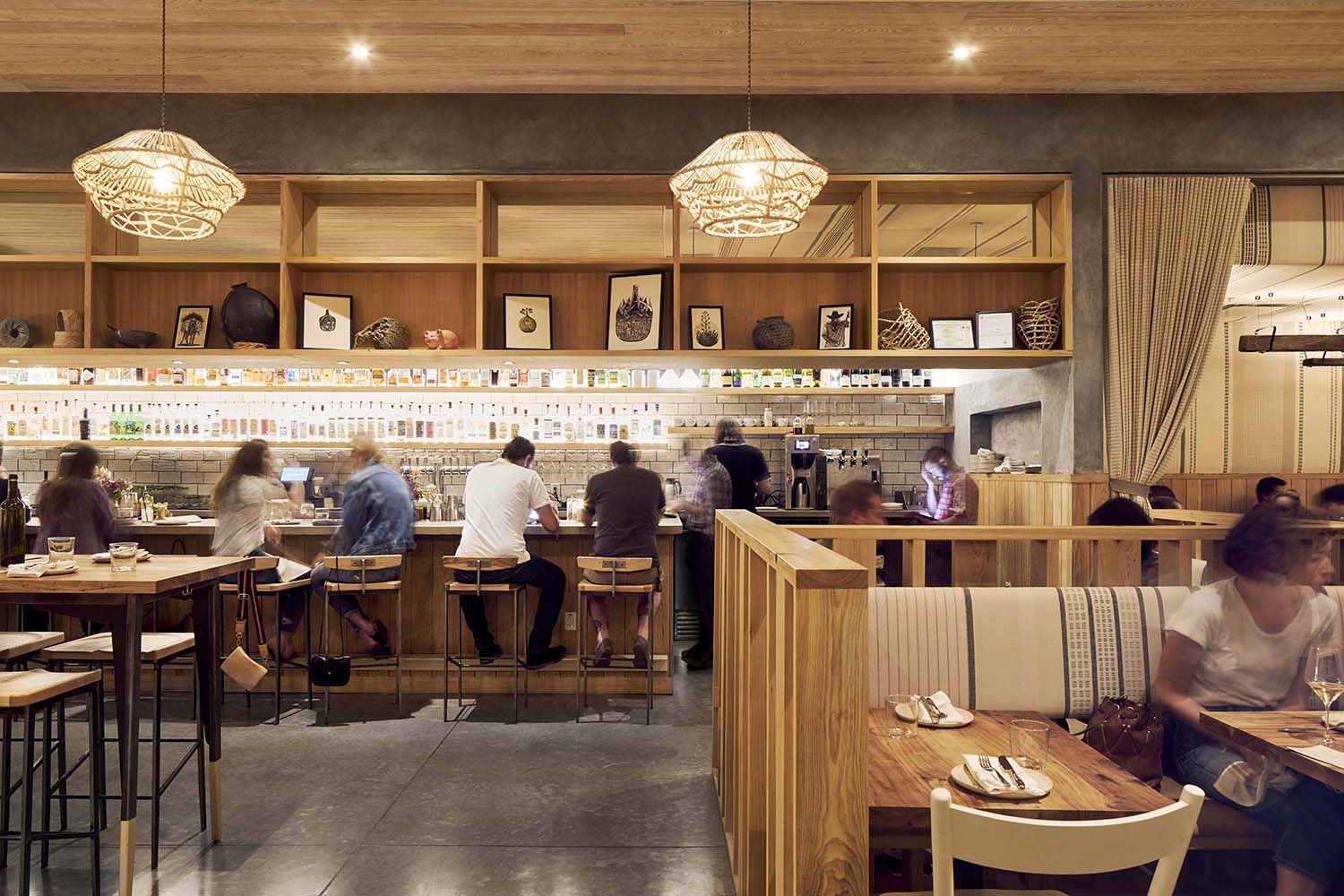 We didn't eat here, but no Austin travel piece complete without a Franklin's mention. Many say this it the Mount Olympus of BBQ and in order to reach the pinnacle one must be willing to pay his/her dues. Attaining the legendary meat at Franklin's requires waiting in line for several hours. There's no way around it. Either you wake up super early before the restaurant opens at 11AM and set up shop or you're going to end up waiting (and possibly getting cut off) if you come later in the day. We were prepared to wait, but after a night out on Rainey Street, it wasn't physically possible. Even though we never tasted the brisket and ribs, we're sure it's heavenly. Founder Aaron Franklin won the James Beard Award for Best Chef in 2015 and is highly regarded as one of the best BBQ pitmasters.
Where We Drank
A super secluded speakeasy where entrance is only granted to members or reservations made on the bar's mobile app. Here Nor There is intimate, romantic, and a recommended spot for Austin's best crafted cocktails. Check out our review.
Located on hip East 6th street a few buildings down from Suerte, Whisler's feels like a secret drinking club hidden in actual 100+ year old abandoned stone building. The entrance is very unassuming and we would've missed it if there wasn't a doorman chilling out front. Once inside, the atmosphere of the craft cocktail bar is dark and intimate, with the only lighting radiating from the many candles laid around the main room. The high ceilings held together by wooden planks seemed to be on the brink of collapsing, and antiques and scribble from past patrons that decorated the wall only added to the clandestine vibes. There was also a large patio area, which is probably more popular during the day daytime. Also, there's an additional mezcal bar upstairs that we unfortunately missed, so definitely check that out if you're a fan. 
Sometimes the best finds are discovered randomly. We discovered Domo Alley Gato (a play off the "domo arigato" which means "thank you" in Japanese) while strolling down East 6th Street. The drinking hole is the sister bar to Ramen Tatsu-Ya (which at one time was voted best ramen in America), which sits next door. We were instantly captivated by the enormous lucky cat figure at the doorway and the ceiling full of red and white lanterns. The bar's decor is worth a stop and is a great marketing ploy. Like a lot of Austin bars, Domo Alley Gato had a big outdoor patio and even better had a late night happy hour (we went on a Sunday night). If we had known about it earlier, it would've been a great place to spend a nice afternoon boozing on Japanese High Balls.
Bar Hop on Rainey Street 
Rainey Street is one of the main bar hubs of Austin and it's a quite a unique experience. Once a residential area, it was rezoned and transformed into a commercial area in 2004, which opened the floodgates for bars and restaurants to set up shop. Former residents sold their homes for a bunch of money or were pushed out to increased property taxes. Rather than tearing most of the houses down, businesses repurposed and remodeled. When you're on Rainey Street, it feels like you're walking down frat row, jumping around different house parties. It's almost like the adult version of the more UT Austin dominated scene on Dirty 6th.
What We Did
Hunt down the murals
Though there's much better street art around Austin, the city has a few iconic murals that everyone swarms to for an Instagram backdrop. Here are the ones we visited.
This was the top priority on Liz's "must do" list, even more than eating BBQ. Deemed the Sunset Capital of Texas, The Oasis is about a 30-35 minute drive northeast of central Austin. It's practically a megacomplex built on the side of a hill with restaurants and bars overlooking Lake Travis. The views are beautiful which presents a serene environment to grab a bite or beer. Obviously, it gets busier as the sun starts setting, so grabbing a table near the edge of the venue can get competitive, as people want the best photo opp. The sunset was nice. Rex says he's seen better, but The Oasis is nice to check out if you have an open evening. 
South Congress Street 
Just like with most areas of Austin, South Congress Street reflects the transformation of the city, blending the old with the new. It's probably the busiest thoroughfares with a many restaurants, hotels, and shops. Start by taking a photo with the "I Love You So Much" mural on the side of Jo's Hot Coffee Good Food, then stroll down the block to Hotel San José or Perla's for a drink on their patios. Once you get the drunk munchies, grab a snack at Amy's Ice Creams or Home Slice Pizza. Lastly, cap everything off with some kitschy gifts from the many stores hocking generic souvenirs to tourists.  
Mount Bonnell
If you're looking for a natural breather from the city, Mount Bonnell is a quick 15 minute drive out of Downtown Austin. Starting from the parking area, it's an easy walk up a steady incline to get to the highest point in Austin at 775 feet. The Colorado River will serve as a beautiful backdrop from your selfies and "deep in thought" photos (see below). There's a number of different hideaways along that trail, so if you're not afraid of heights, it's a great opportunity for a picnic. 
Barton Springs Pool
If you're trying to beat the intense Texas heat, take a dip at Barton Springs. Located in Zilker Park, the pool itself measures three acres in size, and is fed from underground springs with an average temperature of 68-70 degrees. The water actually feels much fresher than a typical pool and you won't have to worry about smelling like chlorine. Admission is only $9 cash.